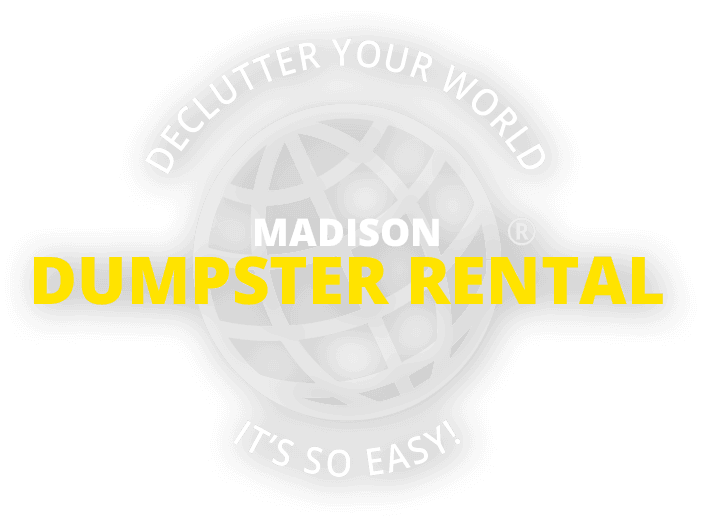 It's so easy! Order online or by phone.
Size/Price
Keep up to 14 days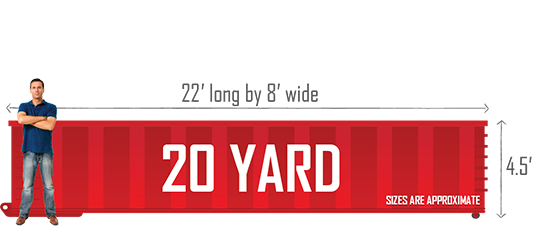 20 yard roll-off dumpsters are the most common choice for medium to large scale home remodeling and construction projects.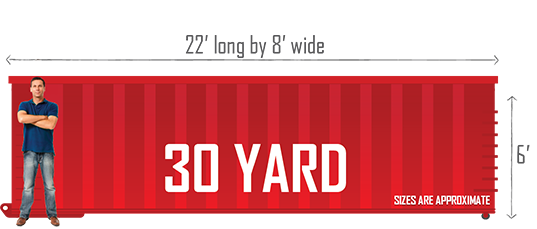 30 yard roll-off dumpsters are ideal for large-scale remodeling, demolition and construction projects.
sizes/prices
Order a Dumpster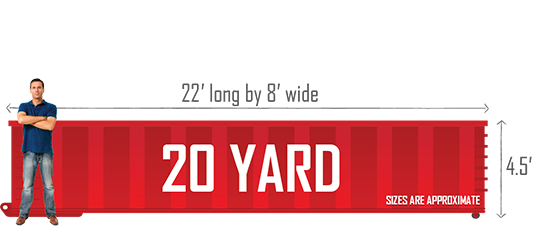 20 yard roll-off dumpsters are the most common choice for medium to large scale home remodeling and construction projects.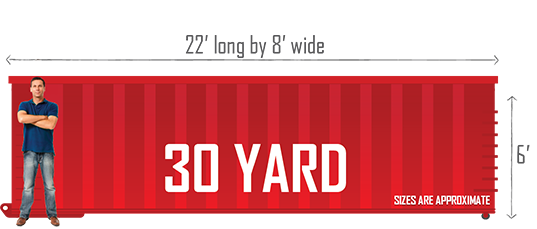 30 yard roll-off dumpsters are ideal for large-scale remodeling, demolition and construction projects.
Madison Dumpster Rental®
*
Easy
Order online save $20 - any time day or night.
Fast
Delivery and pick up within a 24 hour period, great service.
Valuable
Rent for 1 day or up to 14 days. Higher ton caps, No hidden fees.
Dumpster Rental
How It Works
Madison Dumpster Rental is a low cost trash removal service for all of Dane County, Wisconsin. We're a small company dedicated to answering all your questions as to what size you will need or what you can or can't throw into your container for your home or business. Dumpster rental periods range from 1 day to up to 14 days for the same cost. We provide cheap Roll Off dumpster rental rates for yard waste, construction, concrete, shingles, roofing, dirt, brush, yard waste and moving.
Why Madison Dumpster Rental?
We want to make ordering your roll off dumpster as easy as possible. With one call we call tell you everything you need to know about ordering a dumpster for your residence or your business. We are happy to answer all of your questions and help you to figure out what dumpster size you may need to rent. Order your dumpster online and save $20 on any size: 12yrd , 20yrd or 30yrd roll off containers.
Learn More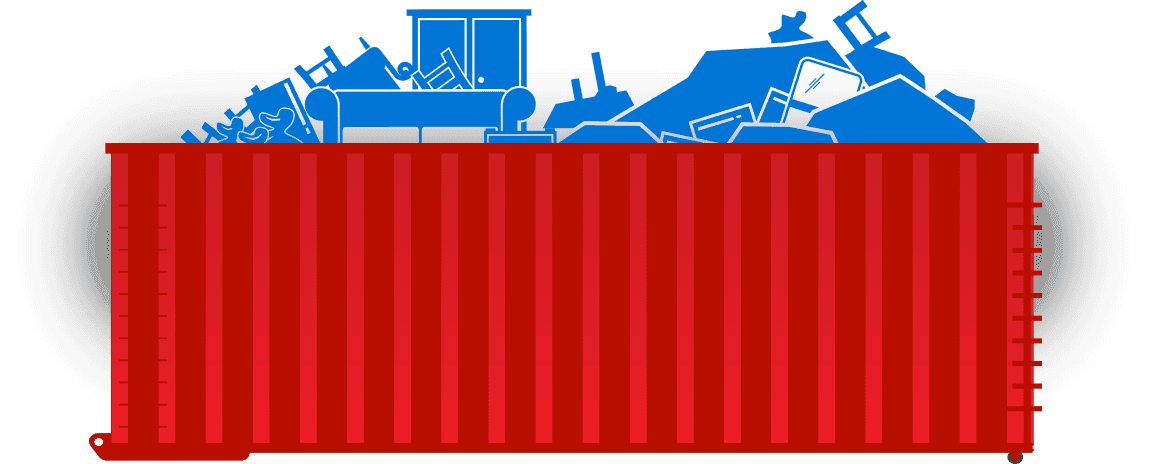 Madison Dumpster Rental
Got Junk
Wisconsin?
Roll Off Dumpsters in Madison
Madison Dumpster Rental provides waste management solutions for all your garbage, waste, recycling, and debris disposal needs throughout Madison and all of Dane County. The best value available for all of your waste management needs. Madison Dumpster Rental has the dumpster for the job.
Our Dumpsters
We have 6yrd, 10yrd, 12yrd, 20yrd and 30yrd roll off containers available for rent throughout the Madison area. These sizes are commonly used for cleaning out clutter in a home or for reorganizing a business. Our dumpsters are great for disposing mattresses, couches, clothes, household trash and large furniture items.
Rental dumpsters are commonly needed for roofing projects. Cedar shake, asphalt shingles and flat roofing tend to be bulky and are too much of a burden to be hauled to the dump/ landfill or recycled. Low cost dumpster rental with a long rental period from Madison Dumpster Rental really comes in handy when you have a construction remodeling project to tackle. Roll off dumpsters are tipped back onto your driveway and rolled into place. Each dumpster has a swinging door in the back that allows you to walk in large couches and furniture right into the container.
The Best Dumpster Prices and Rental Services
With the best prices, best service and no hidden fees, Madison Dumpster Rental is the complete waste management solution for all your waste removal needs in all of Dane County. Madison Dumpster Rental serves all types of customers from renters, homeowners up to big businesses and large corporations. Our Madison dumpster rentals are available for 14 days to ensure you have enough time to complete your project. Whether you're cleaning out the basement, renovating your home or business or simply throwing away a lot of debris, you can trust the team at Madison Dumpster Rental to make the process simple, easy and fast. Dumpsters are also a great idea for spring cleaning, estate sales, hoarder house cleanup and home demolition projects.
Multiple Dumpster Sizes and Options
Madison Dumpster Rental is the affordable, reliable and simple solution for all your clean-up projects. We offer Roll off dumpsters in 6, 10, 12, 20 and 30 yard size increments, meaning we have all the shapes and sizes necessary for your dumpster/roll off needs. Most of our dumpsters have the same width and length and the only difference is in the height. Madison Dumpster Rental can also help you figure out which size will be right for your needs. Madison Dumpster Rental has no hidden fees or extra charges for fuel or tonnage.
Recycling with Madison Dumpster Rental
Madison Dumpster Rental recycles. Whether you're remodeling, cleaning out your house, roofing or working construction, Madison Dumpster Rental can help you recycle your materials. Our roll off dumpsters are often taken to a drop sort facility where, on average, 80% of the waste is recycled. Wood, plastic, drywall, all types of metal, cardboard, shingles, paper, carpet padding and many other materials are recycled. Certain restrictions apply. Order a 12yrd dumpster for Concrete only and save money by recycling.
You Will Save $20.00 When You Order Online
Madison Dumpster Rental offers online ordering. Order for home or work 24/7. We have an easy online ordering system. Online ordering saves you $20 and makes ordering a dumpster very easy.
Dumpsters for Businesses and Homeowners
We provide roll off service for someone who is cleaning out a residence after 30 years of clutter to the first time homeowner who just bought a fixer-upper. Construction companies, remodelers and roofing experts utilize our service to haul way their waste.
Our cheap dumpster rentals are perfect for home projects like building that man cave, cleaning out your garage or just reducing general trash and clutter in your home. Whether you are moving, renovating or working on a roof tear off, we will have the perfect dumpster size for you in the Dane County area.
Now Serving the Madison Community with Complete Dumpster Rental Service
Serving These Wisconsin Cities
and Everywhere in Between
Madison, Dane County including Baraboo, Lodi, Prairie Du Sac, Sauk City, Dane, Mazomanie, Waunakee, Windsor, DeForest, Columbus, Sun Prairie, Waterloo, Cottage Grove, Black Earth, Fort Atkinson, Cross Plains, Middleton, Monona, Deerfield, Cambridge, Mt Horeb, Fitchburg, McFarland, Oregon, Stoughton, Bellevue, New Glarus, Evansville, Edgerton, Whitewater, Milton, Brodhead, Janesville.
Madison Renta del contenedor de basura
Leave a Google Review