Waunakee Dumpster Rental Services
What does it cost to rent a dumpster in Waunakee Wisconsin?
No matter how big the Waunakee project is you're working on, Madison Dumpster Rental has the right size for you. Your price on a dumpster rental can range from $300 to $500, depending on the dumpster size. Are you wondering how much a 6-, 10-, 12-, 20 or 30-yard dumpster costs? The tonnage cap on the dumpster size that you order may affect the overall cost of your dumpster order.
What is a Tonnage Cap?
Your dumpster is weighed when it goes to the landfill, and if the weight is over the tonnage cap you may be charged extra. We have higher ton caps than most other haulers, which means yard debris, brush and residential trash will not be overcharged. New home construction and remodeling projects can reach our tonnage caps if heavy items such as roofing and plaster materials are thrown into our roll offs. If you have large amounts of dirt or concrete, the largest size available is the 12-yard. These materials are recycled and we can offer affordable rates on concrete dumpsters.
We have the best price on dumpsters guaranteed! Our dumpsters may be rented for up to 14 days, and the cost of your dumpster may be more if it is kept over the allowed rental period. If your roll off cannot be placed on your property you will need to get a permit for your dumpster to be placed on the street.
It's easy to order a dumpster online, and you'll save an additional $20 on the overall rental price. Ordering is so easy that you can order from anywhere near Waunakee, even if you're busy shopping for supplies for your weekend roofing project. If you don't know what size dumpster you'd need for roofing, we can help you find it!
If you're looking to rent a small dumpster in the Waunakee area, we'll be able to deliver a 10- or 12-yard dumpster the same day if the order is placed before 10am. If you only have a small amount of trash, you can use our website to locate a public drop off dump nearby.
What can be put into a dumpster?
If you have hazardous materials such as light bulbs, oils, electronics, computers, refrigerators and batteries, you will have to find a local dump near Waunakee. Most waste found in a home such as mattresses, couches, dressers, clothes, wood and plastic can be put into a dumpster. Contact us to learn more about what you can and can't put in your dumpster. If you are looking for a free public dumpster contact a public works department near Waunakee, Wisconsin.
Madison Dumpster Rental is your #1 waste management source.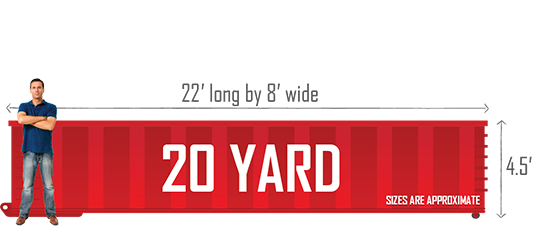 20 yard roll-off dumpsters are the most common choice for medium to large scale home remodeling and construction projects.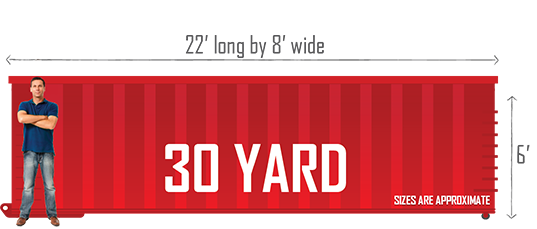 30 yard roll-off dumpsters are ideal for large-scale remodeling, demolition and construction projects.