Dumpster Rental for Sauk City, WI
Rent A Roll Off Dumpster Today
Remodeling projects and storage clean-out sessions are chaotic enough, so let's keep this simple and easy. Here's how it works:
1. Rent a roll-off dumpster at a flat rate – no extra cost for 14 days!
2. We drop it off at your Sauk City home or business in 24 hours, Monday-Friday.
3. We pick it up 14 days later (or earlier if you want), and get rid of the junk.
4. All done!
We pride ourselves on having high ton caps at great prices – so you can dispose of more weight at a lower cost. While some dumpster rental places seem to be afraid to put their prices online, we're not. We give you all the details upfront so you can get on with your project.
If you need to rent a dumpster for concrete, asphalt, or large amounts of dirt, contact us for details.
1 To 14-day Dumpster Rental in Sauk City
Construction and home renovation projects can take longer than originally planned, so it's nice to have schedule flexibility. Instead of renting by the week and putting pressure on your project, we give you the same price on your roll-off dumpster for up to 14 days.
To protect your driveway or yard when the dumpster is delivered, we recommend putting some boards down. If you have them ready, we'll strategically place the boards for you before we unload the dumpster.
What Size Dumpster Do You Need?
You might already know that a ton cap is the amount of garbage and debris you can put in a dumpster. If a dumpster is loaded beyond its ton cap, we charge a ton cap. fee. We have roll off dumpsters with 2-ton caps, 3-ton caps, and 4-ton caps, depending on size. View size, ton cap, and cost options.
Wisconsin & Sauk County Waste Management Laws
There are some restrictions in Wisconsin about what types of junk and trash can go to the landfill. The following items are not allowed in a dumpster:
Liquids
Electronics
Hazardous waste
Lead acid batteries
Fluorescent lamps
Asbestos (or shingles and other materials that contain asbestos)
Gasoline or oil
Wet paint
Radioactive or medical waste
Electronics, computers, and appliances
Large amounts of yard waste
Tires
Animal remains
If you need to dispose of dirt, concrete, or asphalt, contact us for a 12-yard roll-off dumpster.
For tips on how to get rid of hazardous or restricted waste, visit Sauk County's website.
Junk Removal & Waste Management Company for Sauk City
Whether you need a small or big dumpster rental, we have you covered. We're here to provide simple and affordable waste management for your garage clean-out, home renovation, or basement remodeling project.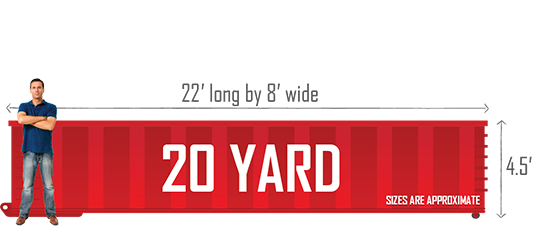 20 yard roll-off dumpsters are the most common choice for medium to large scale home remodeling and construction projects.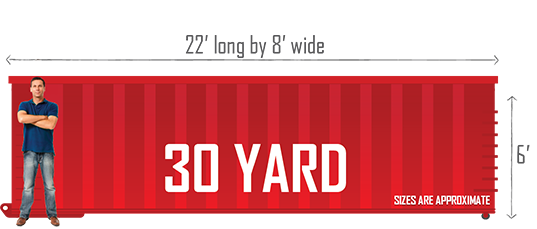 30 yard roll-off dumpsters are ideal for large-scale remodeling, demolition and construction projects.