Dane County Landfill Information
Madison Dane County Landfill Dump Information
Hours are until 2:45 pm weekdays and Saturday until 10:45 am
C&D Rates are $48.00 per ton
Items Banned From The Landfill
Grass
Fluorescent Bulbs
Brush
Recyclables
Cardboard or Boxes
Batteries
Appliances
55 Gallon Barrels/Drums
Paint
Computers
Fluorescent Fixtures
Oil
Leaves
Hazardous/Infectious Materials or their containers
Alternatives to the Dump
| | |
| --- | --- |
| Appliances | Moor's Salvage & Freon Recovery, 6421 Edna Taylor Pkwy. Phone: (608) 223-9220 |
| Barrels/Drums | All Metals Recycling 1802 S. Park St., 255-0960. (Also takes other metals including some appliances.) |
| Brush | City Brush Site, 121 E. Olin, by the Coliseum, 266-4911. (Accepts brush from all Dane County and City of Madison residents for a fee.) |
| Cardboard | Madison Recycling, 2200 Fish Hatchery Rd., 251-2115. (Also takes other household recyclables.) |
| TV - Computers | Computer Reuse and Recycling Opportunities |
| Concrete and Asphalt | Concrete and Asphalt Disposal Options |
| Fluorescent Lamps | Disposal Options for Fluorescent Lamps and Ballasts |
| Household Hazardous Waste & Paint | Dane County Clean Sweep, 2302 Fish Hatchery Rd., north end, 243-0368. |
| Metal | Metal Recyclers - Including some that take appliances, batteries, motors, and car parts. |
| Other Recyclables | Dane County Recycling Manager, 267-8815, welch@co.dane.wi.us |
Electronics Banned from Wisconsin Landfills
As of September 1, 2010, many common electronics devices are banned from landfill or incinerator disposal in Wisconsin. This is required by WI Act 50, which was passed in 2009.
WI Act 50 also requires manufacturers to provide a recycling network for these electronic devices. Visit the WI DNR's website for more information about the statewide program and a list of recycling collection locations. You may also visit Dane County's recycling website for a list of Dane County electronics recyclers.
Oil Filters and Oil Absorbent Materials Banned From Wisconsin Landfills
As of January 1, 2011, used automotive engine oil filters and oil absorbent materials are banned from Wisconsin landfills. This is required by the 2009 Wisconsin Act 86, which was passed in 2009 to promote oil recycling and protect the environment.
No individual or group is exempt from this ban. For more information on this ban, visit the Wisconsin DNR website.
*Waste only accepted from Dane County residents. For waste generated in other counties, please see a complete listing of DNR licensed landfills in the State of Wisconsin.
Tires
All tires must be clean and off the rims and anything larger than a 20" truck tire must be cut into 2-foot sections.
Tarps
All loads must be in enclosed vehicles or tarped with no exceptions. Any untarped load will be turned around at the scale and will not be able to dump.
Dane County Compost Sites
The compost sites accept only non-woody plant material. They do not accept brush, Christmas wreaths or garlands (because of metal wire), or trash of any sort, such as pieces of fences, plastic bags or styrofoam, plastic lawn edging, or similar material.
View hours, locations, and further information about Dane County's Compost Sites.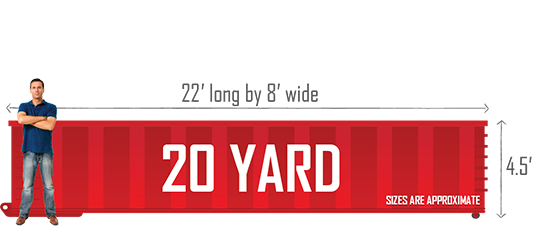 20 yard roll-off dumpsters are the most common choice for medium to large scale home remodeling and construction projects.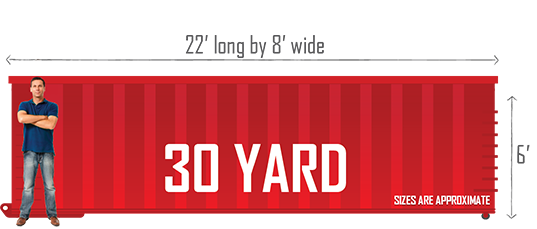 30 yard roll-off dumpsters are ideal for large-scale remodeling, demolition and construction projects.