DeForest Dumpster Rental Services
Rent A Dumpster in DeForest, WI
You can rent a dumpster at an affordable price in DeForest, WI. If you're moving or you're doing a home renovation, a dumpster rental can be a good idea – they're a great convenient way to clean up any trash or debris you may have. This is the perfect time to get rid of all your old furniture or useless stuff. You can clear away the general clutter that can slowly takes over your house with the help of Madison Dumpster Rental.
You'll need to find a local dump near DeForest Wisconsin to recycle and depose of hazardous materials or products not allowed in dumpsters. Order your dumpster online today and get $20 off your order!
How many shingles will fit in a dumpster?
Roofing projects are among the most common uses for dumpsters. Use our roofing calculator to figure out the correct size for your roofing shingle project. Roof tear-offs are the antithesis of fun. We have roll off dumpsters sizes 12yrd, 20yrd, 30yrd that can make loading a dumpster with shingles much easier. Roll off dumpsters have a swinging gate in the back that allow you to walk in your heavy items.
Ordering a dumpster for roofing is very easy. Use our online ordering portal to save $20 off your order. You can order any time day or night – even from your phone while you are shopping the Ace Hardware Store Main St., in DeForest for roofing supplies. We have low rates on dumpsters for all your waste management needs.
Rent your dumpster for 1 day or up to 30 days for the same rate. We have cheap dumpster prices with high ton caps. We offer the same prices for all of Dane County.
Our dumpster can handle a very wide variety of materials. Dumpsters for dirt and concrete are available in only the 12-yard size. Call us if you have large amounts of dirt, asphalt or concrete.
Dumpster Rentals for Homes and Businesses in DeForest
Our 20 and 30 yard dumpsters are great for remodeling and construction. How fast can I get a dumpster? We deliver and pick up our rental within a 24 hour period. Contact the public works department in DeForest if you need a street permit for your dumpster.
Place an order online for your DeForest dumpster rental and save $20 on your order!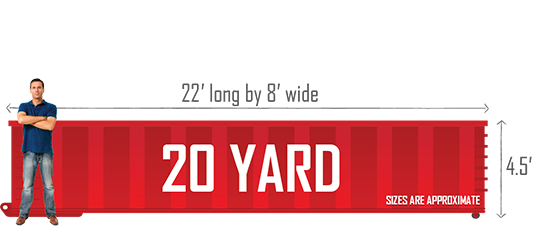 20 yard roll-off dumpsters are the most common choice for medium to large scale home remodeling and construction projects.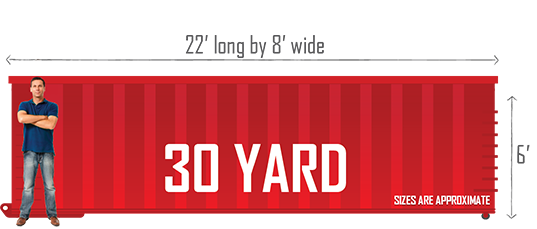 30 yard roll-off dumpsters are ideal for large-scale remodeling, demolition and construction projects.