How Do I Order a Dumpster in Monona WI?
Dumpster Rental in Monona, WI
Ordering a dumpster in Monona is very easy to do. Madison Dumpster Rental has an online ordering feature allowing you to rent the right sized dumpster. View all the available rental prices and then order anytime day or night from the convenience of your home or business. You could even order your dumpster while you're out and about, like while shopping at the Walmart Supercenter in Monona!
If you are moving from your home or residence, you may be shopping for cleanup supplies and boxes to pack up all your clutter that you are about to move into your next home. Don't do that. De-clutter your world! You can order a 12-yard dumpster from your mobile device and save $20 while you are in the cleaning supplies aisle.
At Madison Dumpster Rental we list our prices and terms while providing several resourceful pages for you to decide on what size dumpster to rent for roofing shingles. We also have a roofing calculator to help you figure out how many shingles will fit into your dumpster rental. If you are in need of a small or large dumpster we are your waste management source.
What is the rate for a 10, 12, 20 or 30-yard dumpster rental?
We have several different sizes and dimensions available for rental in a range of costs to fit your waste management needs. You may rent the dumpster for 1 day or up to 14 days at the same cost. The larger-sized dumpsters are ideal for remodeling or cleaning out an estate after 20 – 30 years of living in a home.
The 10, 12 yard dumpsters can handle small amounts of dirt and concrete. Please call us before you put any dirt/ concrete or stumps into your dumpster. We have cheaper rates for these materials because they can be recycled. Please be aware that if a dumpster is too heavy it will need to be off loaded and reloaded into an additional roll off dumpster.
There may be times when you do not need a dumpster at all. If you have a small amount of trash from a spring yard clean up or brush and various yard debris, you may need to find your local dump and transport your items yourself saving you the cost of a dumpster. Check with your local drop off station for disposal rates. Some cities provide free public dumpsters and free trash pickups. We have listed all the dumps and drop off areas near Monona Wisconsin in an effort to help you manage your waste.
Dumpster Sizing Tips
Need to dispose of junk for a garage cleanout, basement cleanout, or home remodeling project in Monona? We have a range of dumpster sizes to suit your needs. All of our roll-off dumpsters have similar base sizes, but the height of the walls may vary.
The amount of junk and debris you can fit in a Madison Dumpster Rental dumpster depends on how you load it. But generally speaking, a fully loaded 12-yard rental dumpster, when dumped on the ground, is about the size of a mid-sized car or one car stall in a garage. However, if you break down and load your items flat, you may be able to fit more trash in the dumpster than you'd expect.
Dumpsters for Businesses in Fitchburg, WI
We're excited your business is booming but you need to get rid of your trash properly. We supply dumpsters for rent to businesses throughout Madison and surrounding areas. Check out our products and sizes to ensure you get the right dumpster for your needs.
More Rental Tips
If you're in need of waste management services in Monona, Madison Dumpster Rental has some tips for you:
To reduce the risk of others using and filling your rental dumpster, place your roll-off dumpster on your property as far away from the street as possible. This will also help you avoid the cost of a street permit and barricades required by local cities and towns.

To save money on your dumpster rental, consider ordering online. By doing so, you can receive a $20 discount on the listed Madison Dumpster Rental price. Just be sure to order at least 24 hours in advance to give our professionals enough time to schedule and deliver your roll-off dumpster container.

Keep in mind that dumpster rentals can be expensive, particularly if you're not aware of additional fees such as tipping fees, processing fees, fuel surcharges, and per day penalty fees. To help you determine the best size dumpster for your needs, our experts can provide you with an estimate of how much your junk/trash is likely to weigh. If you have any questions about ordering a dumpster, don't hesitate to give us a call at 608-438-5174.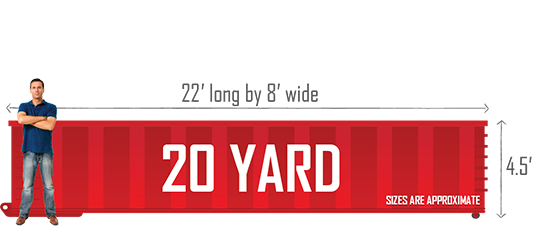 20 yard roll-off dumpsters are the most common choice for medium to large scale home remodeling and construction projects.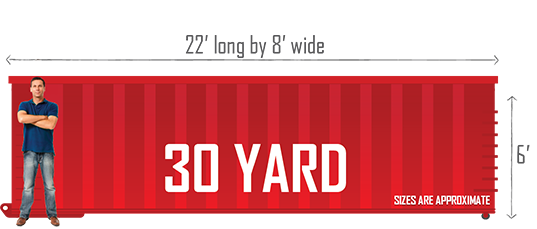 30 yard roll-off dumpsters are ideal for large-scale remodeling, demolition and construction projects.