Affordable Dumpster Rentals in Whitewater, WI
Dumpster for Construction
Have a new construction project on your hands? Make your life easier with our dumpster rental services. We offer dumpsters for rent for up to 14 days, easy delivery and pick up, and affordable prices. Prices are based on the size of the dumpster you need, check out our sizes and prices here.
Dumpster for Furniture
Getting rid of some furniture on moving day? We offer dumpsters to take care of your unwanted furniture. From 6-yard to 30-yard, we've got you covered on fixture removal. Make sure to check out what items your local dump will take.
Can chemicals be put into a dumpster?
Chemicals CANNOT be put inside of a dumpster. Check out our list of restricted items that are not to be disposed of in a dumpster. Please review our restricted items on the info page. As a ground rule, no liquids are allowed in a dumpster.
Can I put furniture inside of a dumpster?
You may throw away furniture into a dumpster. The best method is to break it down and place into the dumpster so that it is not sticking out above the edges. For example, if you have a dining room table, you can take the legs off before putting it into the dumpster. Wood, metal, cloth and plastic material are allowed. A mattress can be put into a dumpster, though we suggest you put it at the bottom of the dumpster. Any other items that are allowed in the dumpster you may put on top of the mattress or mattresses. All items must be flush to the top and not sticking out above the walls of the dumpster. To answer the question, What size dumpster do I need? Please visit our helpful FAQ page.
Can washers and dryers be thrown away in a dumpster?
You CANNOT put a washer and dryer inside of the dumpster. Check out our complete list of items that can and can't be placed in a dumpster.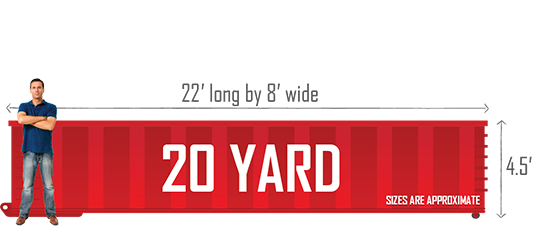 20 yard roll-off dumpsters are the most common choice for medium to large scale home remodeling and construction projects.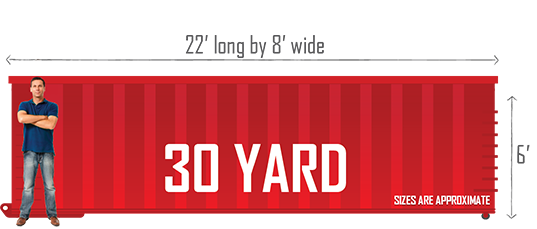 30 yard roll-off dumpsters are ideal for large-scale remodeling, demolition and construction projects.