Low-Cost Dumpster Rental in Evansville, WI
How to Rent a Dumpster in Evansville
Madison Dumpster Rental has made it easy for the people of Evansville to order a dumpster for a multitude of needs. We have our dumpster sizes, dimensions, and costs listed right here on the website for you to quickly find out how much it costs to rent a 6-yard, 10-yard, 12-yard, 20-yard, or 30-yard roll off dumpster. Madison Dumpster Rental has the best dumpster rental rates around, get the dumpster you need more quickly and affordably than anywhere else.
Order a dumpster any time, day or night. Whether at home or at work, even at the hardware store planning your next big project, Madison Dumpster Rental will be here to help you. Pick your dumpster size over the phone, or order off our website to get $20 off the listed price!
Can I Put My Dumpster on the Street in Evansville?
Yes. If your dumpster does not fit on your driveway or through your alleyway, you may need to get a street permit for your dumpster. You will need to contact your local DPW for permission and requirements before we can place a dumpster rental on the street in front of your home.
What Size Dumpster Do I Need?
Choosing the perfect size dumpster depends entirely on the size of the project. Smaller dumpsters are usually best served for yard debris, general household cleanups, and small remodeling projects. A larger 20-yard dumpster rental is perfect for moving to and from your new home, for carrying larger amounts of brush, and for remodeling demolition projects. Our largest 30-yard dumpster rentals, are best used for estate cleanups and large scale demolition construction projects.
Call us for recycling costs and rates on clean dirt, asphalt, or concrete loads.
Only need a small dumpster for a day? We can deliver quickly, sometimes even the same day if ordered before 10AM. If you find you need it for more than a day, don't worry, you can keep your dumpster rental for up to 14 days at no extra cost! This also applies to your dumpster rental removal.
What Can I Put In a Dumpster Rental?
Our customers often ask if they can throw away specific household items like light bulbs, lead paint, beds, computers, or batteries. Check out the list of restricted items that cannot go into our dumpster rentals. Hazardous materials can be taken to your local garbage dump near your public works department. Almost all electronic items are banned from both public and private landfills, and will need to be recycled instead. Your public works department can also assist you in getting a street permit for your dumpster rental if so required.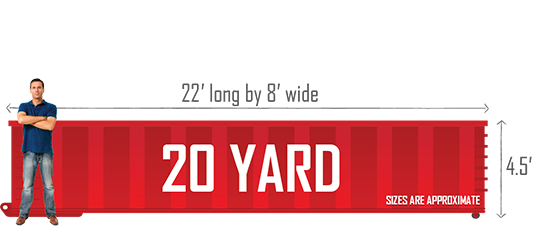 20 yard roll-off dumpsters are the most common choice for medium to large scale home remodeling and construction projects.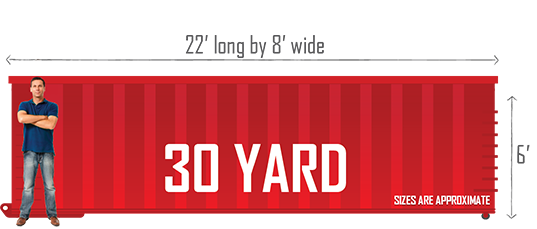 30 yard roll-off dumpsters are ideal for large-scale remodeling, demolition and construction projects.