Rent Dumpsters Online and Save $20
What is the average price/cost of a roll-off dumpster rental in Madison Wisconsin?
Our average price on a dumpster rental in Madison WI is $380. We have 4 different sizes in a roll-off style containers: 10-yard, 12-yard, 20-yard, and 30-yard. Our prices on average are $50 cheaper than our competition in all of Dane County, Janesville, Sun Prairie, Middleton, Baraboo, and surrounding areas.
Our advantage
In addition to low-cost dumpster rentals, you'll be able to rent for up to 14 days so you'll receive a higher value for your dumpster. Our flat-rate prices are listed for your convenience and include the cost of all fees and taxes. Order your dumpster online 24/7 from any location and save an additional $20. Our ton caps are construction and remodeler friendly which means they are higher than most. Allow 24 hours for pick up and removal. Waste management at a low cheap price with a high value plus excellent personal customer service.
Pricing made easy
We always have a low flat-rate price for our dumpster rentals. Our costs are built into the price listed, which is the total price you will be charged on your credit card. This includes all taxes and fees. Price includes up to 14 days and up to a certain ton, also known as the tonnage cap. Your charge is prorated per ton over the cap. If the dumpster is returned anytime before the 14 day period it will be the same low rate. Our online ordering system is fast and easy and will help you save an additional $20 off the listed price.
Possible extra costs
When your dumpster exceeds the tonnage cap the charge will be prorated per ton. Extra per day cost may be applied after the 14-day rental period. False run fees may be applied due to overloaded or blocked dumpsters. The customer is responsible for street permits and permission for placement on any public right of ways. Restricted items found in the dumpster are the responsibility of the customer.
What to know when placing your dumpster:
Dumpster on the street
Permission to place the dumpster on the street in Dane County, Middleton, Baraboo, Janesville, Sun Prairie, and surrounding areas need to be granted by your local DPW 24 hours before delivery. We will need a control number or the name and number of the person at the DPW before we can set up your dumpster delivery.
Dumpsters on Grass or in the Alley
If your dumpster needs to be placed on the grass you will need to place plywood down in order for us to deliver your dumpster.
Dumpsters normally do not fit in the back of a property through an alleyway. They also cannot be placed on any public right of way such as an alley, sidewalk or median strip.
Dumpsters on your Driveway
Dumpster companies, in general, do not take responsibility for damage to the surface of your driveway when delivering your dumpster. To protect your driveway, place 3 each (2'x6') pieces of lumber in the general area that the dumpster needs to be placed. Allow at least 9 feet of space on your driveway for the dumpster door to swing open. The door on a roll-off dumpster is located in the back of the container so the contents can be dumped out at the landfill. Check our roll-off dumpster dimensions to see if they will fit on your driveway.
How much will your dumpster weigh?
The only way to know is to weigh the dumpster before and after it is dumped at the landfill. Our ton caps are on the high side so household items normally do not weigh over the tonnage cap.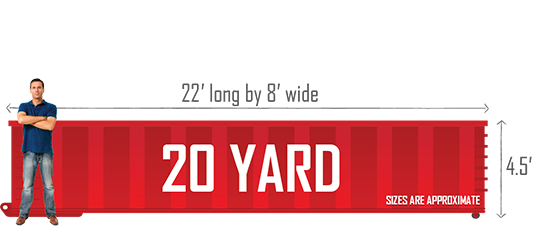 20 yard roll-off dumpsters are the most common choice for medium to large scale home remodeling and construction projects.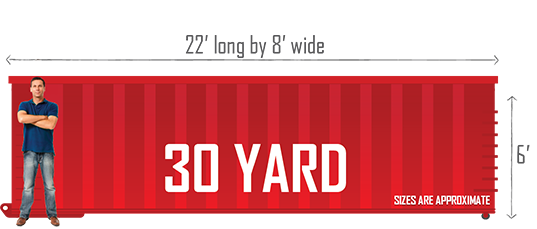 30 yard roll-off dumpsters are ideal for large-scale remodeling, demolition and construction projects.