Baraboo Dumpster Rental Service
Dumpster Rental in Baraboo, WI
You can rent a dumpster for your Baraboo project with the help of Madison Dumpster Rental! You can keep the dumpster for up to 14 days and you can save $20 when you order your roll-off dumpster online.
Most materials related to your home or construction project can be placed in one of our dumpster rentals. It is more important to pay attention to the things you cannot put into a dumpster – check out our complete list of restricted items. Concrete, dirt, and tree stumps, however, are limited to the amounts that can go into a dumpster. Please call us before you place any of these items into one of our containers. (608) 438-5174
Dumpster for Yard Waste
At Madison Dumpster Rental, we offer dumpsters for yard waste. Our dumpsters are available for up to 14 days. Our services make your summer Baraboo projects fast and easy. Save up to $20 when you order yours today! We strive to make your at-home or business projects effortless. That's why we take care of the delivery and pick up, so you don't have to. Contact us today to order your dumpster!
What can you put in your dumpster?
Limited amounts of brush or yard waste can go into a dumpster. You may call or take these items to your local Baraboo Dump area.
Baraboo Public Works Dept.
135 4th Street, Baraboo
Sauk County, Wisconsin 53913
City of Baraboo Public Works Department – (608) 355-2730
Contact the Public dump for information on hazardous materials, recycling, large amounts of leaves, and yard waste.
Order a dumpster now
Can you throw away a TV in a dumpster? No, you cannot throw a TV or any electronics into a roll-off dumpster.
Can you throw furniture in a dumpster? Yes, you may throw furniture into a dumpster. Most common household items can be tossed into a dumpster.
What do you do with your old mattress? You have several options when disposing of a bed mattress. You can call your local dump and find the local drop off location. You can load them into your dumpster. In many communities, you can leave household trash out on the street curb and your municipality will remove it for free, sometimes 2 or 3 times a year.
Can I throw a refrigerator into a dumpster? No, you cannot put a refrigerator or a freezer into a dumpster. Freon is a gas found in refrigerants that can harm the Ozone layer and needs to be captured with proper equipment.
How do I throw away a refrigerator or a can of paint? Paint can only be put into a dumpster if it is dry or mixed with sawdust. These are all very common dumpster rental questions.
Order a dumpster for Baraboo at Madison Dumpster Rental. Order online and save $20.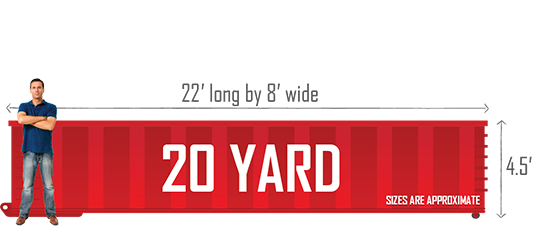 20 yard roll-off dumpsters are the most common choice for medium to large scale home remodeling and construction projects.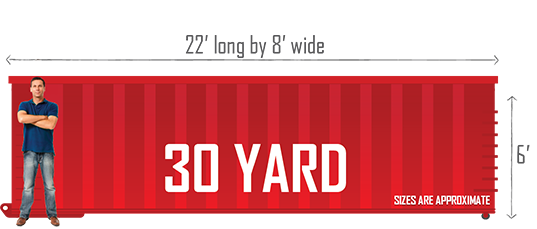 30 yard roll-off dumpsters are ideal for large-scale remodeling, demolition and construction projects.