Cambridge Dumpster Rentals Available
Affordable Dumpster Rentals in Cambridge, WI
Cambridge, Wisconsin is a small town just east of Madison, and businesses throughout the area trust Madison Dumpster Rental for affordable dumpster rentals. Cambridge residents receive the same flat rate that you would pay living in Madison, WI and any of the surrounding areas.
Dumpster Sizes Available
Check out all our dumpster sizes and dimensions. We have roll off dumpsters for all of your waste management needs. No matter if you're moving, getting rid household trash, or getting rid of yard waste like brush, shingles, concrete, or dirt, you can rent a dumpster for up to 14 days at the same low cost.
What is Not Allowed in a Dumpster?
There are specific items that cannot be thrown in a dumpster, such as hazardous materials. You will need to find a dump or landfill near Cambridge and haul your items there for proper recycling/disposal. Tires, electronics, or anything liquid are banned from landfills as a general rule. Most household, business and construction materials may be tossed into a dumpster. We have small, medium and large dumpsters – 6-yard, 10-yard, 12-yard, 20-yard, and 30-yard.
How fast can I get a dumpster for roofing shingles?
We deliver and remove our dumpsters within a 24-hour period Monday through Friday. It's best to have your dumpster delivered the day before you start your roof tear off. Lay some boards down to protect your driveway and to mark the placement of your dumpster. Some municipalities offer free public dumpsters for annual neighborhood cleanups or for dumpster permits for the street. Contact your local public works dept.
Madison Dumpster Rental is your waste management resource. Get your dumpster rental today and save $20 if you order online.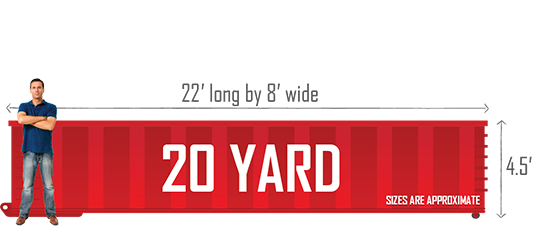 20 yard roll-off dumpsters are the most common choice for medium to large scale home remodeling and construction projects.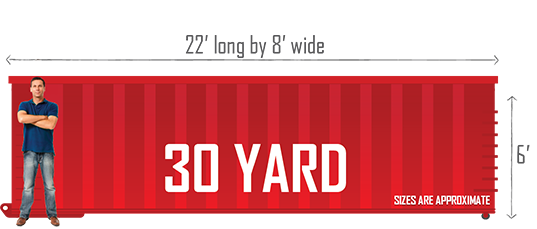 30 yard roll-off dumpsters are ideal for large-scale remodeling, demolition and construction projects.