Dumpsters for Rent in Oregon, WI
Dumpster Rental in Oregon, WI
Renting a dumpster in Wisconsin can be expensive, with prices can add up to $500 per dumpster. Many national companies will offer a seemingly lower price, but customers end up with a smaller ton cap resulting in hidden fees. Going over your ton cap by even a ton can cost customers an additional $100 at least. Exceeding your ton cap may be less difficult than most people think – if you pack a 20-yard dumpster as tightly as possible with trash, debris, and old furniture, you could easily go one or even two tons over the cap limit.
If you need a dumpster for a construction project in Oregon, WI, the best option is a dumpster with a 4- or 5-ton cap. The average weight on a 30-yard dumpster for construction is approximately 3.5 tons, but demolitions can weigh much more when plaster, drywall, and brick are involved. Some of these large containers like the 30-yard roll off dumpster can end up weighing 12 tons. There could be an extra $600 charge waiting for you in the end.
Most dumpster rental periods are about 2 weeks – Madison Dumpster Rental has a rental period for up to 14 days at the same low rate. Even if you ordered a small 6-yard or 12-yard dumpster for your home, you may need it for a couple of weekends because of a busy summer schedule. Order your dumpster rental online today and save $20.
Call us at (608) 438-5174 if you need a dumpster to dispose of dirt or concrete. The 12-yard dumpster is the biggest dumpster offered for these materials.
Learn more about your local dump in Oregon, WI.
Common Dumpster Rental Questions
What can't go into a rental dumpster?
There are a number of items that shouldn't be put in a dumpster. Things like air conditioners, refrigerators, TVs, tires, various electronics, and batteries should be disposed of separately. Check out the full list of banned materials.
How fast can I get a dumpster?
Delivery and pick up is typically done within a 24-hour period. If your dumpster cannot fit on your driveway you will need to acquire a street permit through your local government. Local street permit costs will apply.
How much does a dumpster rental cost?
It depends on the size of dumpster you want, and with Madison Dumpster Rental you can save $20 when you order online. We also have some additional waste management resources to help keep your costs even lower.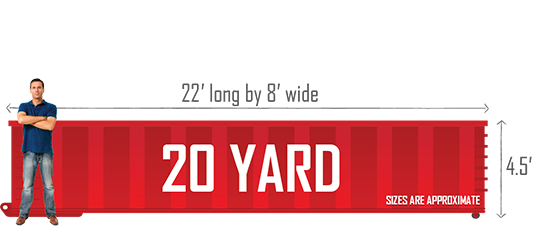 20 yard roll-off dumpsters are the most common choice for medium to large scale home remodeling and construction projects.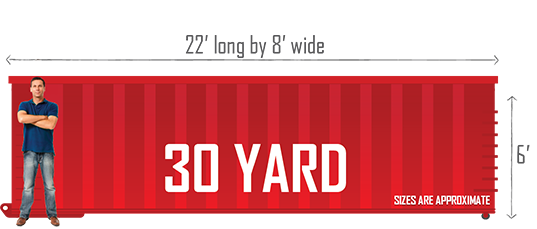 30 yard roll-off dumpsters are ideal for large-scale remodeling, demolition and construction projects.