Dumpster Rental Services in Madison
Get an Affordable Dumpster Rental in Madison, WI
Do you need to clean out your garage? Is your basement full of accumulated junk? How about a little spring cleaning? Madison Dumpster Rental offers a 14-day dumpster rental period to give you the proper amount of time to sort through also your personal items. Madison Dumpster Rental wants to make your dumpster rental experience as easy as possible, especially if you are renting a roll-off dumpster for the first time.
At Madison Dumpster Rental, we understand some projects take more time – our dumpster rental service will not charge you additional fees for extra days when you have a home renovation or construction project. All costs are straightforward with no surprises. Madison Dumpster Rental offers longer rental periods with absolutely NO hidden fees! Great for demolition, construction, and kitchen remodeling jobs.


Give us a call at 608-438-5174 to rent your dumpster. We are here to answer your questions in regards to your cleanup project in the Madison, WI area. Madison Roll Off dumpster rentals come in a variety of sizes to choose from, including 10-, 12-, and 30-cubic yards.
Be sure to check out our frequently asked questions for dumpster rentals in Madison:
What Size Dumpster do I Need?
The most popular roll-off dumpster sizes are 6-yard, 10-yard, 12-yard, 20-yard, and 30-yard dumpsters. Our 12-yard roll-off dumpster can hold the amount of waste, junk, or debris of a one-car garage stall, or the size of a mid-sized car.
Dumpster Sizing Tips
Whether it is for a garage, basement cleanout, or home remodeling project, we have a variety of different sizes to suit all of your Madison junk removal project needs. All roll-off dumpsters have approximately the same base size. The difference lies in the height of the walls of each roll-off dumpster in the Dane County area.
How much Junk and debris a Madison Dumpster Rental dumpster can hold is completely up to you. When a 12-yard rental is fully loaded, then dumped on the ground, the junk and debris is the size of a mid-sized car or one car stall of your garage. When your items of junk and debris are broken down and loaded flat, the amount of trash you will be able to fit into any of the Madison Dumpster Rental dumpsters will amaze you.
For hazardous waste materials, and recycling information for your area, please contact your local dump.
Dumpster for Garbage
Taking out the trash is a hassle. Not to mention making extra trips to the junkyard. At Madison Dumpster Rental, we make it easy and affordable to get all your trash needs taken care of. Rent a dumpster for garbage and we'll make sure you get the right sized dumpster and won't charge you if you need extra days. Check out our dumpsters and order your next service online.
Waste Management Dumpster Rental Madison
Madison Dumpster Rental would like to share some additional tips for your waste management in the Madison area: Place the roll-off dumpster on your Madison property as far away from the street as possible. This will reduce or eliminate the likeliness of others using and filling your rental dumpster. Also, by placing your dumpster somewhere off of the street, you will avoid the cost of a street permit and barricades required by Madison area cities and towns.
You can save $20.00 on each listed Madison Dumpster Rental price when you order your dumpster service online. Please order your Madison dumpster rental at least 24 hours ahead of time to allow our professionals the proper amount of time to schedule and deliver your roll-off dumpster container. Ordering a dumpster can be expensive if you are not aware of tipping fees, processing fees, fuel surcharges, and per day penalty fees. Our dumpster prices are listed online and our experts can help you in determining how much your junk/trash is going to weigh and advise you on the dumpster size to order. Please give us a call at 608-438-5174
Madison landfills do recycle via local drop sort facilities in partnership with Madison area haulers. We all need to be careful of what is to put into our landfills. Be sure to check our restricted items list for Madison Dane County area landfills. To find out how to dispose of these items yourself, check with your local city village or town.
City Of Madison – Garbage Dump and Recycle Center
East: (608) 246-4532
West: (608) 266-4681
Summer Hours start March 24th
Open daily 8:30am-4:30 pm – Tuesdays and Thursdays open until 8PM
Winter Hours Start December
Monday through Friday 7:30am - 3pm
Closed Holidays
Items restricted from landfills include computers, desktop, laptop, notebook, and tablet computers, TV's, desktop printers including scanners, fax machines, and/or copy machines, computer monitors, and other computer accessories including keyboards, speakers, external hard drives, and flash drives, DVD players, VCRs, and other video players, fax machines, cell phones, and other such electronics.
Waste management in Madison is made easier by Madison Dumpster Rental – Contact us to rent today!
Dumpsters for Businesses in Madison, WI
We're excited your business is booming but you need to get rid of your trash properly. We supply dumpsters for rent to businesses throughout Madison and surrounding areas. Check out our products and sizes to ensure you get the right dumpster for your needs.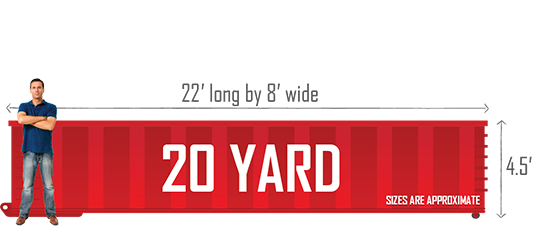 20 yard roll-off dumpsters are the most common choice for medium to large scale home remodeling and construction projects.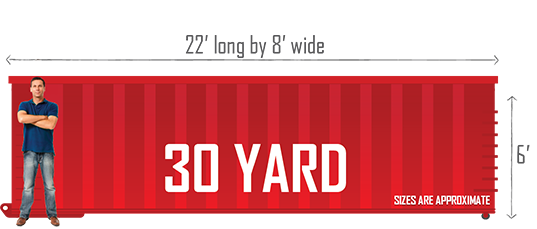 30 yard roll-off dumpsters are ideal for large-scale remodeling, demolition and construction projects.