Leave Us a Google Review
Thank you, Jim! My dumpster was picked up today as promised. I will certainly recommend you to others. Thanks for doing what you said you would do! That is sometimes rare these days.
Sara S - Sun Prairie WI
Every step of the process in using Madison Dumpster has been easy. The website was easy to use, delivery times and rates were as promised. Each employee I have spoken to, from delivery man to customer service has been accommodating and pleasant. This is my first time needing to rent a dumpster, if I need them again, I wouldn't bother to try any other service!
Annie C.
I didn't know how easy and inexpensive getting a dumpster was and MADISON DUMPSTER RENTAL was by far the most economical. They delivered the dumpster on the day I requested, which was right away, and placed it right in my driveway. I filled it to the brim and then they picked it up on the day I requested. MADISON DUMPSTER RENTAL took all the junk, mattresses, furniture, old clothes... everything I needed gone. Moving was smooth. Got a lot of junk? Call MADISON DUMPSTER RENTAL!!
Lori S.
I would highly Recommend Madison Dumpster Rental. They dropped off the dumpster during the specified window. There was an issue with the dumpster at pickup, with the latch, but they worked hard to resolve it and get it picked up in a timely fashion.
Lesley S. - Madison, WI
Highly recommended. Fast and easy to rent a dumpster, very accommodating and pleasant on the phone when we had questions. Price is also better than competitors for weight, size, and length of time for rental (15 days!). They were on time with drop off and pick up. Exceptional customer service.
Marie V.
Working with Madison Dumpster is easy, reasonable, hassle free and they are quick to answer any questions you might have. I have used them a few times now and every time you get the same quality customer service with a helpful attitude. Thanks
Tim
I was more than impressed with the ordering process, quick arrival and scheduling for removal. Will definitely recommend!
Shannon G.
Audra and Alicia were absolutely wonderful with my need of services! Very responsive and respectful!
Vickie W.
They worked with us ahead of time to figure out the best spot to place the dumpster. It was delivered on time and the staff were very communicative.
Nehemiah
Madison Dumpster was a great deal. They were very timely and courteous with drop off and pick up. We were very pleased with this service.
Sarah H.
Can't beat their rental prices. If needed, you get to keep the dumpster much longer than other places. Delivered on time, every time, to Cross Plains, Wi. I have used them for 3 projects, getting 30-yard dumpsters each time. Never an issue.
Mike C.
I rented a dumpster here...it was better price and terms than anyone else. They did everything in a professional manner with no surprises. Even when there was a problem on my end, they handled it cheerfully and efficiently. I had to have two large dumpsters on my project, and if I ever need another, I will certainly call them.
Lauri T.
BEST dumpster place around if you're looking in Madison! I called several dumpster places and Madison Dumpster Rental was the cheapest, quickest and allowed us to keep the dumpster for a full month while others allow about a week. They were incredibly flexible with our schedule and very quick. Their customer service is fantastic as well. We are home flippers and would recommend to anyone!
Emily C.
Great service and prices, helpful staff, prompt delivery, what more could you want?
Deet L.
I would recommend Madison Dumpster Rental. I was able to order the dumpster easily online and communication with the company was exceptional. The price was unbeatable for the length of time we needed the dumpster.
Jim N.
Madison dumpster rocks!!! Thanks guys for the great service. Best price and higher tonnage allowance that I've found. Highly recommend your service.
Scott R.
Dumpster was delivered quickly. Prices were the lowest I found. Excellent customer service!
Elijah A.
The dumpster rental process was as simple as could be. They were very flexible with my schedule on the pickup date. Will definitely be using them again in the future.
Keith R.
My dumpster was delivered promptly and in the exact location I needed it. They were easy to schedule with online and over the phone we're pleasant and informative
Scott H.
Best company to rent from! Best prices by far and you can have the dumpers for up to 15 days (and extend for longer if you need, or have it picked up sooner) Other companies charge you more and only leave it for a week. Great customer service too.
Laura W.
We have used Madison Dumpster Rental twice- for business and personal. Competitive rates, dumpster delivered on target date, drivers always kind and respectful of where to place dumpster, and online ordering/scheduling pick up is extremely easy. Company is quick to respond to questions. Will use again and recommend!
Rebecca F.
I am a contractor, and have used Madison Dumpster Rental multiple times. They are always prompt, easy to contact, and a pleasure to do business with... along with the lowest prices in town that I have found!
Shane B.
Madison Dumpster worked great for our project. Dumpsters were delivered and picked up as requested, helping us stay on schedule. Prices were very competitive. Will use Madison Dumpster again for our next project.
Jason H.
I used Madison Dumpster Rental for a large-scale remodel. I needed a 30 yard rental for at least 15 days. I inquired with over half a dozen of the other major local waste companies in the area and this service was significantly cheaper than the most expensive options (by hundreds of dollars!) and less expensive than even the most economical option I found. The dumpster was delivered within a day or two of placing the order and picked up at the end of the rental period. The transparency of their online pricing and the ability to quickly order online was a HUGE plus. Spending several hours calling around to other companies to check pricing and then having to call back to facilitate the rental is a hassle. I'll continue using this service throughout the rest of my remodel and for any future needs.
Kayla
We have used Madison Dumpster Rental for 2 consecutive 20 yard dumpster rentals. They beat the competition in price and time allowed to keep the container- but that is not where it ends! They are prompt, professional, and very thorough. Seamless experience, with a friendly voice at the other end of the phone. Highly recommend!
Dawn
Best dumpster rental in the area. Best prices, best terms, large delivery radius. Drivers are always on time and super friendly. Many sizes to pick from. A person would have to be crazy to go through anyone else! Thanks again!!
Jared
Can't beat their rental prices. If needed, you get to keep the dumpster much longer than other places. Delivered on time, every time, to Cross Plains, Wi. I have used them for 3 projects, getting 30 yard dumpsters each time. Never an issue.
Mike
Arrived at the beginning of their estimated time and I asked for pick up on Sunday for Monday and they said it could take 1-3 days but they were here on Monday. Thank you very much. Now I just need to figure out how big a dumpster I need better because I will have to get another one soon.
Julie B.
Good morning, thanks for the Great Service!
Sara - Madison WI
Hi Jim, I just want to let you know that I appreciate the prompt response and resolution. I know that sometimes things don't work out exactly as planned and I am glad you (and your driver) took the extra time out of your day to get the dumpster moved. I will recommend your service to anyone I know looking for a dumpster in the future. Thanks and have a great weekend.
B. J. Z - Madison WI

Jim - I just wanted to thank you for all your help, and your fast replies. We know where we will recommend anyone that is looking for a dumpster
Lisa F - Madison WI
Dumpster is ready for pickup. Who ever the driver was that delivered the dumpster better get a Christmas bonus this year! Marked the approx area that I wanted the dumpster, came home and they had the dumpster i swear to within an inch. I will use Madison Dumpster Rental from now on!
Paul S
Jim, thank you very much. The dumpster was delivered this afternoon, the driver was very courteous and careful backing up the long driveway. We will definitely refer friends to your company. Have a nice evening.
Judy - Verona WI

Please pick up dumpster ASAP. Thanks for the great service. You made everything really easy.
D Nelson - Madison WI
Hello, Jim....thanks so much for both dumpsters and the great service. It was a pleasure doing business with you. I will hold on to all the information for future needs. Also, I will recommend you. Take care. Best to you and much continued success.
Patrice - Madison WI
Jim, sounds great. I've used you guys in the past. Awesome service, so you'll have my business again. If I need a 2nd dumpster to get rid of all I have any chance on a discount? Thanks.
Matt - Madison WI
Great customer service! I highly recommend this company!
Jill W - Madison WI

Jim, thank you for your excellent customer service.
Meg H - Verona WI
I was checking dumpster prices and called my buddy to ask him why dumpsters were so expensive and he gave me your phone number. Thanks my friend, this is more like it.
Fran C - Madison WI
Thank you so very much. You have been so very helpful. I will be sure to recommend your company if the need for a dumpster comes up in the future.
Tamara J - Madison WI

I just wanted to leave a message for Jim. I rented a dumpster this summer and it came at a time when work was insane and I did not get the chance to utilize it in a timely fashion but called to have it left for an additional week. we worked out the arrangements but the pick-up that was already scheduled happened anyway. I contacted Jim and was blown away by how fast he responded and more than made it right by getting another dumpster back for me the following day. The kind of service that you provide is very rare these days and I just wanted to thank you again for the incredible service and rapid resolution. I have recommended to everyone that I know that has needed a dumpster (and many that did not know they needed one) Thank you again, you have a customer for life.
Bruce M
Hi Jim, the dumpster located on our property (see address below) is ready to be picked up. Thanks very much. It has been nice working with you.
Michelle
Jim - The dumpster is ready for pickup. Thank-you for your prompt service. I'm anticipating ordering a dumpster within a week and a half.
Clint A - Fitchburg WI

The Dumpster on Old Lantern Dr is ready for pick up. Thanks for the great service!
G. Miller - Madison WI
Jim, How can I add a testimonial? This has been the easiest part of the move I am facing! You are awesome, service was quick, the driver who brought the dumpster was so nice. I recommend Madison Dumpster over any other company! I will call when I'm ready for pick up!!
Kathy - Baraboo WI

Thanks Jim! I'm glad it was here longer to get more stuff out of the house but I need room for the moving truck to get in. Thanks for everything Jim! I know the landlord is going to need a dumpster for his remodel so I will make sure he has your number.
Becky - Madison WI
What excellent customer service! With everything that can go wrong during a home remodeling project ... this was one worry-free task! Thanks guys!
Kathryn W
Half the cost of other waste removal companies
Myles T.
Jim - thanks for your service and the price was good too. This was our first time ordering a dumpster and you were right, it was simple. Good luck in the Madison area.
Jodi - Cottage Grove WI

Wow.. that was quick I will give you a call when we are done with the container. Thanks so much.
Gene R - Sun Prairie WI
I like your style Jim, your are direct and to the point, I will try to send you more dumpster orders your way. I will have to check out that online dumpster order thingy you mentioned. When I call you can give me the price break anyway. lol
Bill W - Verona WI
Thanks for all you help, I will contact you in the fall for a 20 yrd dumpster when we remodel our kitchen. Our dumpster is full and ready for pick up. It was nice to work with you.
Vicki A - McFarland WI

I have used their dumpster services multiple times and have been very happy with their ability to get dumpsters in/out of locations pretty quickly. A great experience working with the company.
Jessie S - Janesville WI
Jim was very nice, efficient & helpful with all our questions & needs, highly recomended!
Pal – Middleton WI
Very Friendly Service, Prompt Delivery, Very Accommodating if any Changes, Great Prices. Thanks! KS
Bungalow B – Madison WI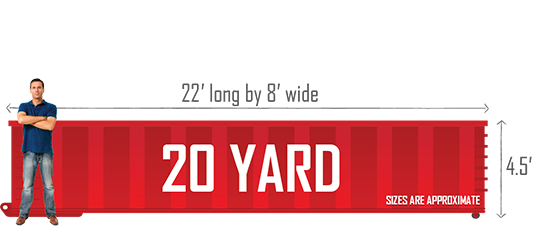 20 yard roll-off dumpsters are the most common choice for medium to large scale home remodeling and construction projects.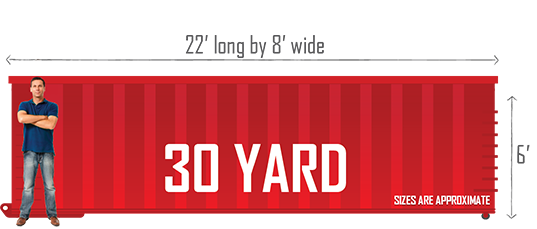 30 yard roll-off dumpsters are ideal for large-scale remodeling, demolition and construction projects.