Need a Dumpster in Stoughton?
Rent a Roll-off Dumpster in Stoughton, WI
If you need to clean out your garage, declutter your basement, or do some spring cleaning, Madison Dumpster Rental can help. We offer a 14-day rental period, giving you plenty of time to sort through your personal items. We want to make your dumpster rental experience as easy and stress-free as possible, especially if it's your first time renting a roll-off dumpster.
At Madison Dumpster Rental, we understand that some projects may take longer than expected. That's why we won't charge you extra fees for additional days when you have a home renovation or construction project. Our dumpster rental service is straightforward, with no hidden fees or surprises. We offer longer rental periods for projects such as demolition, construction, and kitchen remodeling, so you won't have to worry about unexpected costs.
Give us a call at 608-438-5174 to rent your dumpster. We are here to answer your questions in regards to your cleanup project in the Madison, WI area. Madison Roll Off dumpster rentals come in a variety of sizes to choose from, including 10-, 12-, and 30-cubic yards.
Check out our dumpsters today and see how we can help with your junk removal needs.
What Size Dumpster Do I Need?
Madison Dumpster Rental offers a variety of roll-off dumpster sizes to suit your needs, including 6-yard, 10-yard, 12-yard, 20-yard, and 30-yard dumpsters. Our 12-yard dumpster is one of the most popular sizes and can hold the equivalent of a one-car garage stall or a mid-sized car's worth of waste, junk, or debris.
Dumpster Sizing Tips
If you're in need of a dumpster for a garage cleanout, basement cleanout, or home remodeling project in Madison, we have a range of sizes to suit your needs. Our roll-off dumpsters have similar base sizes, but the height of the walls may vary.
The amount of junk and debris you can fit into a Madison Dumpster Rental dumpster depends on how you load it. For example, a fully loaded 12-yard rental dumpster, when dumped on the ground, is about the size of a mid-sized car or one car stall in a garage. However, if you break down and load your items flat, you may be able to fit more trash in the dumpster than you'd expect.
For information on disposing of hazardous waste materials or recycling in the Dane County area, please contact your local dump.
What can I put in my rental dumpster?
Most household materials can be put into your roll off container including couches, beds, wood, plastic, cloth and many other common household items.
Restricted items that cannot go into a dumpster include tires, hazardous materials, liquids, electronics and large appliances. See a complete list of items that are allowed or not allowed in a rented dumpster. Restricted items can be disposed of at your local dump.
Where is my local dump? 515 S 4th St, Stoughton, WI 53589 Directions from Walmart 1800 U.S. 51, Stoughton, WI 53589 Head east on US-51 S toward Kings Lynn Rd Turn right onto S Van Buren St Turn left onto W Milwaukee St Turn left onto S 4th St.
More Rental Tips
To help with your waste management in Stoughton, Madison Dumpster Rental has some tips to share:
To reduce the risk of others using and filling your rental dumpster, place your roll-off dumpster on your property as far away from the street as possible. This will also help you avoid the cost of a street permit and barricades required by some cities and towns.

Order your dumpster service online to save $20.00 on the listed Madison Dumpster Rental price. Be sure to place your order at least 24 hours in advance to give our professionals enough time to schedule and deliver your roll-off dumpster container.

Keep in mind that dumpster rentals can include additional fees such as tipping fees, processing fees, fuel surcharges, and per day penalty fees. To help you determine the best size dumpster for your needs, our experts can provide you with an estimate of how much your junk/trash is likely to weigh. If you have any questions about ordering a dumpster, don't hesitate to give us a call at 608-438-5174.
Dumpster for Roofing Shingles
What size dumpster do I need for shingles?
We have many dumpster roll off sizes to choose from. A 12-yard dumpster will hold up to 30 roofing squares of asphalt roofing shingles. A 20-yard dumpster will hold up to 50 roofing squares of asphalt roofing shingles. A 30-yard dumpster can hold up to 70 roofing squares of asphalt roofing shingles. Roofing shingles made from cedar shakes fill dumpsters at a rate of 1 for 1. This means that every roofing square of cedar shingles equals one cubic yard of dumpster. So if you have 12 roofing squares of cedar shingles you will need a 12-yard dumpster. Asphalt shingles weigh approximately 250 lbs per roofing square. Roll off dumpsters are the best types of dumpsters for roofing projects since they have swinging doors in the back that allow for easy loading.
How long can you keep the dumpster? You may rent the dumpster up to 14 days. You may rent the dumpster for 1 day if you like but it is the same rate as a 14 day rental. A longer rental period is great for moving. You will have multiple weekends to sort through all the things you don't want to move. Can you mix brush, yard waste, dirt and concrete into the dumpster? Yes. Limited amounts can be mixed with residential and business trash. Cheap dumpster rental for home or for your construction remodeling needs at Madison Dumpster Rental.
Have some questions about our roll off dumpsters? Contact the professionals at Madison Dumpster Rental today to learn more.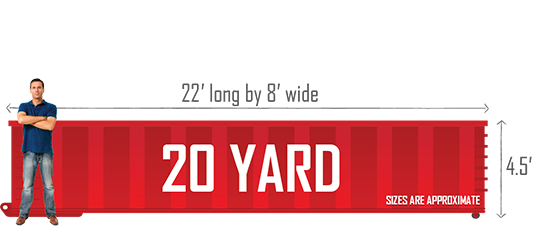 20 yard roll-off dumpsters are the most common choice for medium to large scale home remodeling and construction projects.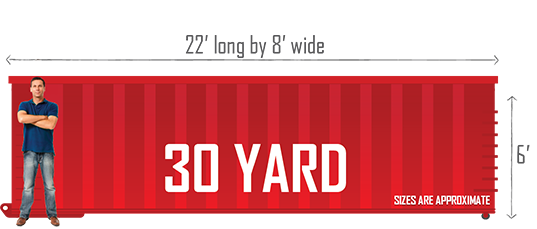 30 yard roll-off dumpsters are ideal for large-scale remodeling, demolition and construction projects.