Terms & Conditions
Please check Service Areas for "Online" Orders. Call for delivery fees outside delivery area.
Allow 24 hours for delivery. Call for Saturday and Sunday service.
Rental / service period - up to (30 days) Dumpsters will automatically be removed after 30 days. If you are finished with your dumpster before the 30 day period please contact us for removal. $10 per day over 30 day period.
Please check delivery service areas & space requirements.
Customer is responsible for a clear path to dumpster for delivery and pick up. A trip may be charged for a false run.
$65.00 per Ton over Tonnage Cap. Credit card may be charged for ton overages.
Restricted Items - Customer represents and warrants that the waste material to be collected and transported by contractor pursuant to this agreement is solid waste generated by customer and will not contain lead acid batteries, fluorescent lamps, asbestos, gas, oil, wet paint, radio active waste, medical waste, flammable or explosive materials, large appliances, tires. No "Hazardous Materials" of any kind. Computers (desktop, laptop, netbook and tablet computers) desktop printers (including those that scan, fax and/or copy) computer monitors; other computer accessories (including keyboards, mice, speakers, external hard drives and flash drives) DVD players, VCRs and other video players (i.e., DVRs) fax machines; and cell phones. Concrete, asphalt or dirt unless specified recycled dumpster. Please call before ordering a dumpster for dirt, asphalt and concrete. Extra charges may apply for restricted items found in the dumpsters.
Customer warrants that any right of way provided by customer from customer's equipment location to the most convenient public way is sufficient to bear weight of all contractor's equipment and vehicles reasonably required to perform the service herein contracted.
Contractor or sales agent shall not be responsible for damage to any private pavement or accompanying subsurface to lawn, concrete, asphalt or any route reasonably necessary to perform the services herein contracted.
Customer is responsible for aquiring a street permit before the dumpster in delivered.
Customer is responsible for all materials in dumpster. Credit Card may be charged for ton overages or false runs.
A $95.00 fee may be applied to false runs due to blocked or overloaded containers. A dumpster is overloaded when the debris is loaded over the top edge of the container.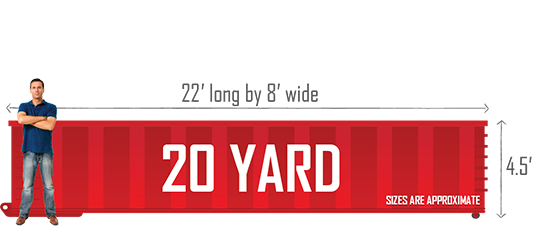 20 yard roll-off dumpsters are the most common choice for medium to large scale home remodeling and construction projects.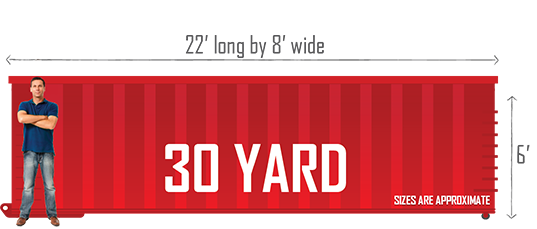 30 yard roll-off dumpsters are ideal for large-scale remodeling, demolition and construction projects.