Get a Roll-off Dumpster in Sun Prairie
Dumpster Rental in Sun Prairie, WI
Rent a dumpster at a low rate in Sun Prairie, WI and receive the same affordable price and 14-day rental that you can receive in Madison. Dumpster rentals for up to 14 days for trash removal of your business or residence. Multiple-sized roll-off containers are available for most household materials including roofing. Please call about concrete and dirt dumpsters.
Dumpster for Recycling
Recycling can be hard when there is too much stuff to carry. Using a dumpster can take the strain off getting rid of your unwanted trash. At Madison Dumpster Rental, we provide dumpsters for concrete, furniture, recycling, and more. Ordering today could save you $20. Make sure you're ordering the right-sized dumpster for your needs with our free dumpster size calculator and free quotes.
Not sure what you can recycle in your dumpster? Check out the list of allowed and prohibited items from the Sun Prairie Recycling Center.
Sun Prairie Recycling Center
Sun Prairie Recycling Center
1798 South Bird St.
Sun Prairie, WI 53590
Phone: (608) 837-3050
Keep in mind you can save yourself a lot of time by ordering a dumpster online! You could keep it for one day or up to 14 days. A full-sized pickup truck loaded 3 feet high is approximately 3 cubic yards. If you order a 30-yard dumpster you would save yourself 10 trips to the dump and you would not have to handle the material twice.
Dumpster for Furniture
Get rid of your unwanted furniture with Madison Dumpster Rental. We make it easy and affordable to get rid of your old loveseats, sectionals, and more. We offer delivery and pickup services for your dumpsters, so you don't have to worry about lugging around a heavy metal box. All you need to do is fill it up and contact us when it's ready to be returned. Our dumpsters are available for rent for up to 14 days.
What can I throw into a dumpster?
You can throw most materials that are in your home into a roll-off dumpster. It's most important to pay attention to the items that you cannot throw into a dumpster. You may put only small amounts of dirt, concrete, and yard waste into a roll-off but never any hazardous materials or electronics. Please see our list of items that can or can't go into a dumpster.
How do I throw away paint? You cannot put any liquids into a dumpster or a dump/landfill. If you have paint that needs to be disposed of, it has to be dry. It can be painted onto wood or mixed with sawdust, kitty litter, or paint hardener. The Middleton Department of Public Works should have a local drop off area to properly dispose of your paint.

How do I throw away a couch? Couches and mattresses can be tossed into dumpsters along with most other household or residential debris. Some municipalities have annual curbside pick-ups for general trash. Couches can be dropped off at your local dump in Middleton. Couches can be mixed in a dumpster with yard debris, construction materials, dirt or concrete, wood plastic or metal.

Can I throw away a mattress in a dumpster? Yes, a mattress can be put into a dumpster. It's suggested that you put it at the bottom of the dumpster. Any other items that are allowed in the dumpster you may put on top of the mattress or mattresses. All items must be flush to the top and not sticking out above the walls of the dumpster.

Can I put a washer and dryer into a dumpster? Unfortunately, you cannot put a washer and dryer inside of the dumpster. We do have a list of other restricted materials. See our complete list of items that can and can't be placed in a dumpster.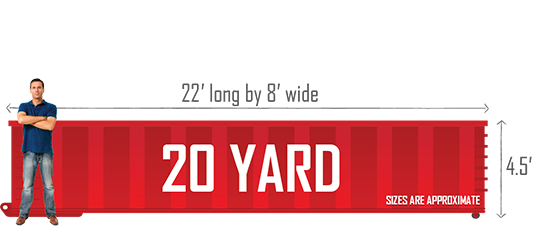 20 yard roll-off dumpsters are the most common choice for medium to large scale home remodeling and construction projects.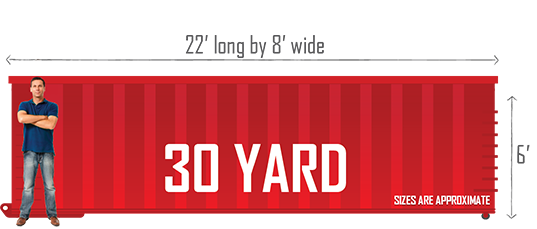 30 yard roll-off dumpsters are ideal for large-scale remodeling, demolition and construction projects.