Dumpsters in Cottage Grove
How Do I Rent A Dumpster in Cottage Grove, WI?
Getting a dumpster rented for Cottage Grove is just like ordering a dumpster for Madison WI. We offer you the same pricing and terms all throughout Dane County and beyond. We have listed all our prices online to make it easier for you to decide on what dumpster size is needed.
We have dumpsters for roofing, remodeling, moving, yard waste, dirt, or concrete. Just select your dumpster here and you will be able to fill out the form in less than 5 minutes. You can order a dumpster anytime, day or night, from any location in the Madison, WI area. Ordering online will save you an additional $20!
How Much to Rent a Dumpster?
We always strive to keep our dumpster rental prices low. We offer great value on all our dumpster rental services – we will allow you the time it takes to sort through your household trash and find all the things that are of value to you. A 6-yard dumpster is great for quick spring clean up projects while a 12-yard dumpster is great for your house or residence. You can toss away old furniture, couches, mattresses, and household miscellaneous trash.
For proper waste management, most people could use a small dumpster to get rid of that annual amount of yard waste/brush that will grow in your yard. Not to mention the annual amount of clutter that can and will accumulate inside your residence.
How Much Does it Cost to Rent a 20-Yard Dumpster?
The price on a 20-yard dumpster is very cheap when you consider how much it will cost per week over a 14 day period. Compare this rate to renting a dumpster for only 10-14 days. Your dumpster cost can double within only a month – with Madison Dumpster Rental, you can rent a dumpster for up to 14 days at the same flat rate.
It is the same rate. This longer rental period becomes very valuable when you have a construction job such as remodeling or roofing. Rain delays can happen to your construction project and the last thing you want to happen to your job is for the costs to go up.
How Much Does it Cost to Rent a 30-Yard Dumpster?
The 30-yard dumpsters are the biggest we offer. They are great for all types of large cleaning projects, typically placed at residential or commercial construction jobs. Be careful not to place large amounts of dirt or concrete into these roll-off containers or they may be too heavy to pick up and have to be reloaded as a result. If you come across any hazardous or recyclable waste, contact your local public works department to find a dump near Cottage Grove, WI.
Dumpster for Home
When it comes to getting rid of the trash, finishing up an at-home project can be challenging. But it doesn't have to be. With our dumpster rentals, you can have your unwanted trash out in 14 days or less. Making trips to the dump is made easier with our 6-yard to 30-yard dumpsters. Order today and get back to your trash-free life.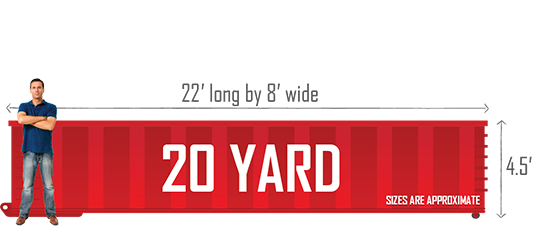 20 yard roll-off dumpsters are the most common choice for medium to large scale home remodeling and construction projects.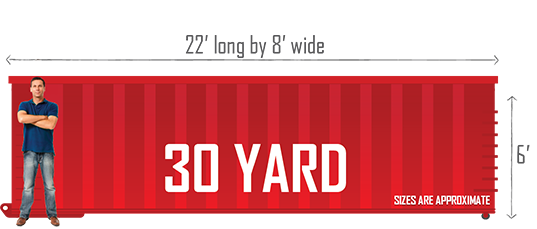 30 yard roll-off dumpsters are ideal for large-scale remodeling, demolition and construction projects.