Concrete, Dirt, Asphalt Dumpsters in Madison Area
Madison Dumpster Rental Provides Waste Disposal Services for Concrete Demo Projects
Our dumpster rental service includes offering disposal units for the removal of concrete, rebar, asphalt, and dirt materials associated with concrete demolition projects. Most of these materials can be reused and recycled, which saves on tonnage costs, giving you a better value. Can I place a dumpster on a hill or an incline?
Concrete Dumpster Restrictions:
12-yard is the largest size available for concrete
Dumpsters may not be heaped above the fill line
No other materials may be mixed in to qualify for waived tonnage caps

Call (608) 438-5174 to Order a Concrete Dumpster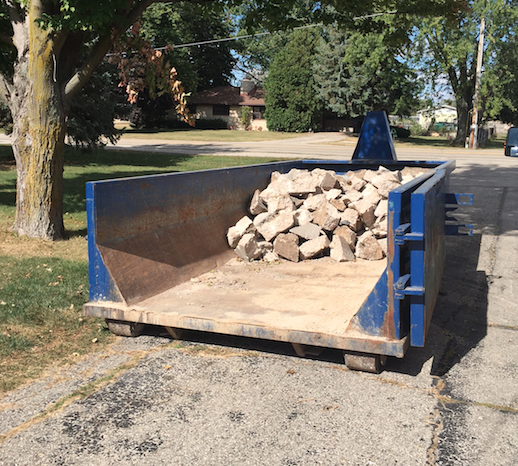 Prices for Recycling Concrete, Asphalt, and Dirt
Because these materials are reused, the cost of disposal at the landfill is waived. Tonnage cost will only apply if other materials (besides the above mentioned) are mixed in the load. Extra charges can be incurred if the dumpster needs to be placed off the property and onto a public street. Street permits and barricades will need to be acquired by the homeowner. Contact your local public works department for more information.
What Style of Dumpster is best for Concrete?
Roll-off type dumpsters are the easiest to load because of the swinging gates on the back. Materials can be wheelbarrowed in or walked in.
Dumpsters for Dirt Removal
When you order a dumpster for dirt only or if the recycling dumpster contains a significant amount of dirt it will need to be profiled. A profile is a quick inquiry of the history of the soil. This needs to be done before the dumpster is hauled away. The analysis is usually done through a brief questionnaire.
Dumpster for Asphalt Disposal and Recycling
Asphalt is America's most recycled material. Your asphalt parking lot or driveway demolition can be turned into tomorrow's highways, driveways, and playgrounds. Asphalt material is commonly mixed with concrete and this can be drop sorted at a recycling facility. Small amounts of soil and/or dirt are allowed.
Concrete can be accepted with rebar and can be mixed with asphalt and small amounts of dirt. Concrete cannot be heaped over the fill line of the container due to safety issues in transportation. Disposing of "Clean Concrete" which means, no painted concrete, no back wash (Slurry), no dirt, wood, or garbage of any kind is a great way to ensure you will not pay extra for weight.
Call (608) 438-5174 today to order a dumpster to remove concrete, asphalt, and dirt from the best source for rental dumpsters in the Madison area.