Dumpster Rental Services in Portage
Dumpster Rentals in Portage, WI
Working on a little home renovation? The dumpster professionals at Madison Dumpster Rental are here to help you out! You can put most household trash into a dumpster, and if you're moving, bigger items like couches, tables, old mattresses, and furniture can also be thrown away.
Dirt, concrete, and asphalt are allowed in dumpsters but in very limited amounts. The 12-yard dumpster is the biggest size we can offer for concrete or asphalt waste – call us at (608) 438-5174 to learn more. If one of our 20- or 30-yard dumpsters is filled with dirt, concrete, or asphalt the container may be too heavy to pick up and as a result, need to be reloaded. Items mixed together with general waste will be subject to ton overages.
Please contact us for pricing: (608) 438-5174
What can't you put into a dumpster rental?
The general rule for putting waste in dumpsters is to avoid putting any liquid, tires, electronics, refrigerators, water heaters, water softeners or any hazardous items. Electronics such as computers, TVs, printers and batteries are materials that are no longer allowed into a dumpster rental. If you need to find a dump near Portage WI check out our list of recycle areas and drop off areas nearby. Asphalt and cedar roofing shingles are allowed into roll off dumpsters. We will help you find out what size dumpster you'll need for roofing materials.
How to order a dumpster for Portage Wisconsin
In order to rent a dumpster in Portage, the first thing you will need to do is calculate what size roll off dumpster you will need. We have small to large dumpsters. Visit the page that lists the dimensions of the 6, 10, 12, 20 and 30 yard roll offs. Once you decide on what size dumpster you will need, figure out what day you want it delivered.
It is best to have your dumpster delivered the day before it is actually needed. This way you will not have to wait for your container on the day that it is needed. Dumpsters are delivered between 7 am and 5 pm on weekdays. Call for Saturday deliveries.
How fast can I get a dumpster?
Deliveries and pickups occur within a 24 hr period. Same day deliveries are most likely to occur if ordered before 10am.
What does it cost to rent a dumpster?
We offer the best prices and value on dumpster rentals. Rent for 1 day or up to 14 days at the same rate. You can order your dumpster from your mobile phone when you are at the Home Depot on Wisconsin St. in Portage while you order construction materials for your wife's remodeling project. If you are looking for a free public dumpster or street permits for your dumpster you will need to find your public works department.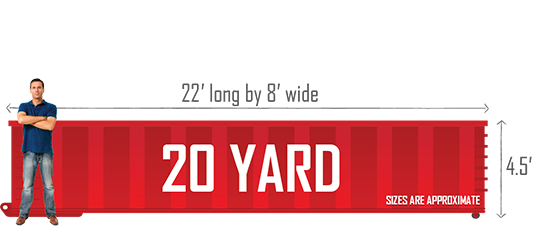 20 yard roll-off dumpsters are the most common choice for medium to large scale home remodeling and construction projects.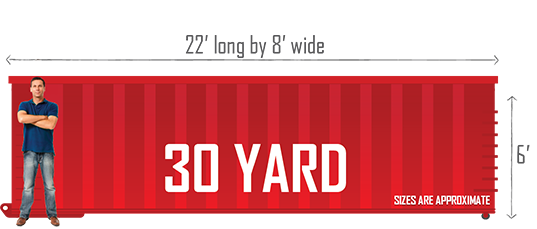 30 yard roll-off dumpsters are ideal for large-scale remodeling, demolition and construction projects.