Wisconsin Dells Dumpster Rental
Waste Management Dumpster Prices for Wisconsin Dells
The best price for renting a dumpster near the Dells is found right here at Madison Dumpster Rental! No matter what size dumpster you need or how much you need to throw away, Madison Dumpster Rental has the right dumpster for you.
We have small 6-yard or 10-yard dumpsters for spring cleaning or home remodeling all the way up to large 30-yard dumpsters for major construction projects. Our rates are lower, our rental periods are longer, and our ton caps are higher, making your cleanup project very cost effective! We carry the industry standard sizes in roll off dumpster rentals, and we can handle anything from yard waste and brush to roof tear offs.
Rent a dumpster for roofing
If you've never done a roof before and you are trying to save as much money as possible, try to avoid taking multiple trips to the dump. We can help you figure out how big of a dumpster you need for roofing shingles – asphalt shingles tend to be heavy and a pain to grab and handle twice, and cedar shake shingles are just a mess and hard to pack a trailer in an efficient manner.
Rent a roll off dumpster for your roof tear off and save yourself from a tedious clean-up. Madison Dumpster Rental will manage your waste disposal and help you to find answers to your dumpster rental-related questions.
How Much Does it Cost to Rent a Dumpster in the Wisconsin Dells?
If you rent a dumpster in the Wisconsin Dells, you'll get the same low price on a dumpster that is available through all of the Dane County area. Ordering a dumpster is a snap – go online and order a dumpster rental for a $20 discount. Pick-ups and deliveries typically occur within a 24 hour period Monday through Friday.
What Can you Throw in a Rental Dumpster?
You are not allowed to throw away any electronics, batteries, computers, printers, tires, or liquids. See our list of items that can and can't go into a dumpster rental.
Please call us if you're not sure what you can throw away into a dumpster. If you any have hazardous materials that need to be recycled you will need to find a dump near your town. If you need to put your dumpster on the street contact your Public Works Dept. for a street permit – local fees may apply.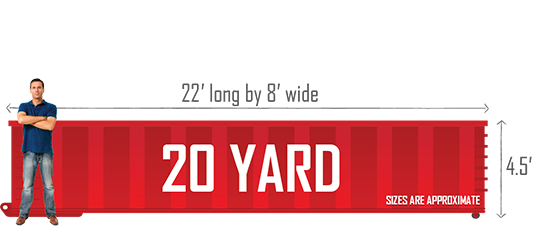 20 yard roll-off dumpsters are the most common choice for medium to large scale home remodeling and construction projects.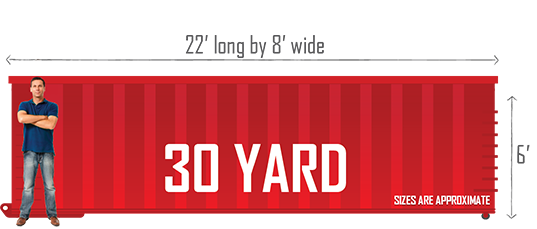 30 yard roll-off dumpsters are ideal for large-scale remodeling, demolition and construction projects.